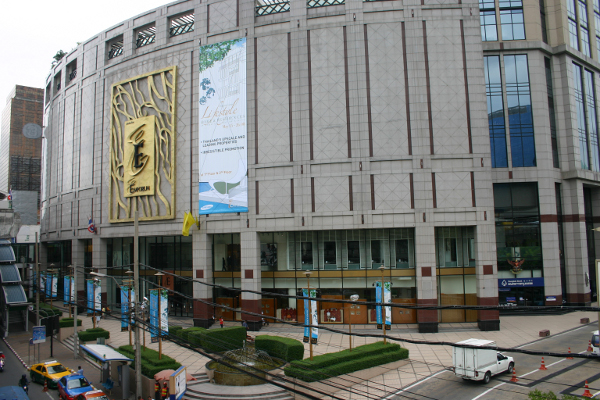 Emporium Shopping Mall
There are a few shopping centers that may be worth a look for the tourist. Note that the first three occupy three corners of a major intersection and so can be visited in a single trip if you have the stamina. See our map of Bangkok's Shopping District.
The "grand-daddy" of Bangkok's shopping centers, it mostly has a market feel to it, with many small shops and sometimes very narrow aisles. You'll find one floor devoted almost entirely to mobile phones and accessories. Two others have clothes as well as bags while another is furniture.

Siam Square

Outdoor cluster of shophouses which is currently given over to independent clothing designers, music stores and other things of interest to the young crowd attracted to Siam Square.
Set side-by-side across Rama I Road from Siam Square, these two centers have several designer shops and restaurants. The construction site next door to Siam Center will be another shopping center, to be called Siam Paragon.

Siam Paragon

Opened in December 2005, Siam Paragon takes center stage, both literally and figuratively, in the heart of Bangkok's Shopping District. Most of the shops are decidedly high end, with names such as Armani, Chanel and Mazerati on hand, but there are enough distractions such as movies and Asia's largest aquarium to keep the place packed on weekends.
Up on Petchburi Road is the old center of Panthip Plaza. For many years, this was the place to go for computer hardware, peripherals and software (both real and pirated). It has two or three competitors these days, and not so much pirated ware any more, but many still swear it has the best prices in Bangkok.
High class center located on Sukhumvit Road at the Prompong Skytrain station. Very popular with foreign residents.
New in 2012 mall that fancies itself a "Japanese Lifestyle Mall", located at the Ekamai Skytrain station.
Central Plaza is one of the grand dames of Bangkok shopping malls. It was opened in the 1970s, and after lengthy negotiations one the renewal of the lease for the land, it underwent a major remodel in 2011.
Union Mall is a relatively new (opened in 2006) mall across the street from the aging Central Plaza Ladprao.
A rather small high-end mall in Ratchada's shopping district. Has a small ice rink and broadway theater.
Fortune Town is home to one of the city's most accessible IT Malls, with close to a hundred shops selling computer, parts, laptops, digital cameras and assorted other technical gadgets.
Directly facing Fortune Town across Ratchadapisek Road, this newer and much larger mall has a lot more to offer, if you're looking for something other than technology.
River City is Bangkok's oldest 'antiques' mall, and still the best destination for serious Asian art lovers to go.
This ambitious project is built in and around the old East Asiatic Company's warehouses, which were first established back in the mid-nineteenth century, although the refurbished buildings date from the early 1900s. It provides a night-time entertainment area with restaurants, shops and a few shows.
Terminal 21 opened in October of 2011 at the very busy Asoke intersection. Asoke Road is also technically known as Sukhumvit 21, hence the "21" in the name. The "Terminal" part alludes to the design theme of the mall, which sports an airport motif.
he Silom Galleria is a shopping mall in the base of the Jewellery Trade Center on Silom Road. It was meant to be Bangkok's premier shopping center for gems and jewellery.
Silom Village is one of Bangkok's oldest tourist-oriented shopping arcades. It was a going concern when I first visited Bangkok in 1987.
The sparkling new Crystal Design Center, opened in 2010, won't figure on most Bangkok visitor's radar, but if you're interested furniture and home decor, you may wish to think about paying the suburban mall a visit.