Gateway Ekamai opened in July of 2012 at the Ekamai junction on Sukhumvit Road. It's right at the Skytrain station and has a bridge linking the station right into the mezzanine floor. The mall calls itself a "Japanese Lifestyle Mall" and indeed when you enter the mall from the train station, all the restaurant concepts you see, along with the decorations, are very Japanese. Some of the brands are new to Bangkok. However, the Japanese theme soon wears off as you make you way up or down, and by the time you get to the IT area on the top floor, the brands are more Korean than Japanese.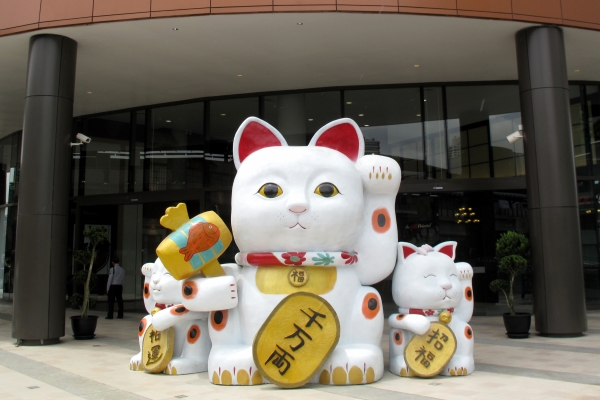 The 'traditional' Japanese statue that greets visitors coming to Gateway Ekamai shopping mall from the Skytrain
The mall does not have a major anchor department store. There is a large branch of the Max Value supermarket chain, which is open 24 hours. Office Depot also has a branch in the basement. Some of the upper floors sport a lot of small boutique shops similar to Terminal 21, although here they are aimed at a slightly more mature crowd. For visitors to Bangkok, the main attraction to Gateway Ekamai will probably be the food, which ranges from the quirky R Burger to more mainstream Japanese foods such as sushi and ramen noodles.
The central atrium, decorated with Japanese lanterns and cranes
Getting there: Gateway Ekamai is right at the Ekamai BTS station, with direct access bridges from the station to the mall. It's also just a few steps from the Sukhumvit subway station.