The area around Siam Square is Bangkok's shopping mecca, catering to all needs and incomes.
Siam Square Area Map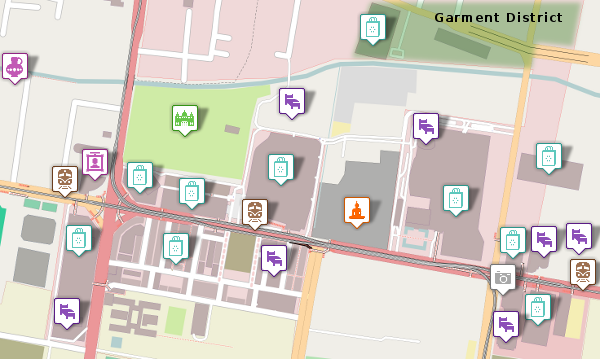 Click on a district for more information, or scroll down for a summary.
Base map image © OpenStreetMap contributors, CC BY-SA
Up at the end of a small alley opposite MahBoonkrong Center is the small collection of old Thai houses assembled by Jim Thompson, credited with revitalizing the Thai silk industry. Its worth a visit.
Between Siam Center and the canal, almost hidden away, is a small but rather important palace. This was the home of Prince Mahidol, the father of the present king. The palace was occupied by the late Princess Mother until her death in 1995. It is now used by HRH Princess Srindhorn.
This ancient shopping center (although it doesn't look its age) is much like a multi-level covered bazaar. Often called just 'MBK', the main specialty is mobile phones and related electronics. There are a couple of shops here that have just about every size and shape of battery you can think of. The large SF cineplex on the top floor has all the latest movies, plus food, bowling and a wide range of game machines.
There's not much here to interest a tourist, except perhaps Madame Tussauds on the top floor.
Big enclosed shopping center with several boutiques. Again, not much to interest the tourist.

Siam Paragon

The newest and biggest mall in the Siam shopping area, Siam Paragon was opened in December 2005 to fill a place at the very top end of Bangkok's shopping spectrum. The "hi-so" mall has outlets of designer brands such as Armani, Hermes and Tods, as well as high end home furnishing and fine Thai handicrafts.

Siam Square

HUGE collection of shops, big and small, arranged around a closely spaced grid of streets. Some of the city's oldest cinemas are in the square, and many small shops sell clothing and other goods from Thailand's up and coming young designers.
Set amidst all this hustle and bustle, you might be quite surprised to find a temple that somehow remains a quiet oasis in the big city.

Central World

This mammoth shopping center on the corner has two department stores, a large cineplex and a lot more. Portions of the mall were damaged by fire in May 2010. Portions of the mall will remain closed for some time.
On the corner of Rama I and Rajadamri Roads, in front of the Grand Hyatt Erawan Hotel, stands the small square compound of the Erawan shrine. The shrine's popularity stems from its unusual origins. Its really just a somewhat larger than normal spirit house. It dates back to the 1950s when the hotel's predecessor (also called the Erawan Hotel) was under construction. The project was plagued by so many accidents that, in desperation, the builders put up the shrine which depicts Brahma riding his elephant Erawan, and the problems promptly stopped. Thus the shrine became famous and is sought out by people day and night seeking the powerful spirit's intercession.

Amarin Plaza

Next to the Grand Hyatt is Amarin Plaza, a small shopping center with a large office building on top. It has some tailor and souvenir shops which get a lot of business due to the building's proximity to several hotels, but its generally rather quiet. In 2003, a collection of stalls from the governments OTOP program were opened on the ground floor.

Central Department Store

Further down the street is the main branch of Central Department Store, a chain with branches all over Thailand. Central aims for an up-market clientele, so it can be worth a look if you're in the neighborhood.

Gaysorn Plaza

This up-scale shopping center just finished a year-long re-fit. It definitely targets the very hi-so types with large shops by Louis Vuiton, Gucci and others. These are the real thing, so don't expect any bargains. The goods will most likely be more expensive than back home.
This large center is devoted exclusively to Thai handicrafts and souvenirs. Prices can be quite reasonable.

Big C Supercenter

A discount retailer might seem a little out of place in amongst its upper class neighbors, but it fits in well enough in this area that caters to all classes. There's not really much here to attract the western visitor, although the top floor is home to yet another mega-cineplex.

Panthip Plaza

Up on Petchburi Road is the old center of Panthip Plaza. For many years, this was the place to go for computer hardware, peripherals and software (both real and pirated). It has two or three competitors these days, and not so much pirated ware any more, but many still swear it has the best prices in Bangkok.
Across the street from Panthip Plaza, occupying about a city block, is the large garment market. The area is generically known as Pratunam, which means 'water gate' in Thai. The finished garments on offer are mostly cheap durable clothing generally destined for big American chain stores. However, you can find fine Indian fabrics, designer dresses and other interesting things, if you're willing to spend time poking around the maze of stalls.

Platinum Mall

New (2006) shopping mall in the garment district, full of small stalls selling - what else - clothes. Especially good for jeans.