North of Bangkok's main shopping district is the city's huge garment district. Known to locals as Pratunam (literally, "water gate"), the area is a warren of narrow alleys and sheds lines with small stalls selling clothing of all types.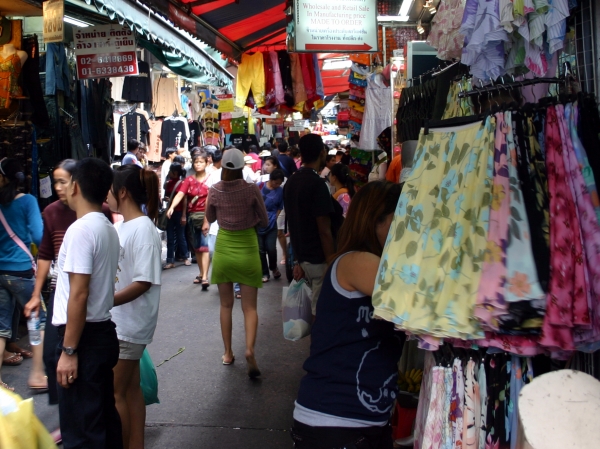 One of the many crowded streets that makes up the garment district in Bangkok.
You can find just about anything to wear in the garment district, whether it's beachwear, t-shirts, formal dresses and even suits. It doesn't stop there. You'll find many shoe shops and tons of accessories, from belts to bags.
There are three enclosed 'malls' in the district. The newest of these is Platinum Mall, opened in late 2005. All three are air conditioned, but otherwise not much different that the streets.
Although much of the business in the garment district is for large wholesale transactions, this is where many locals go to shop, and almost all stalls will sell single items, for a price. Be prepared to bargain hard if you go shopping in this area.

Garment District Map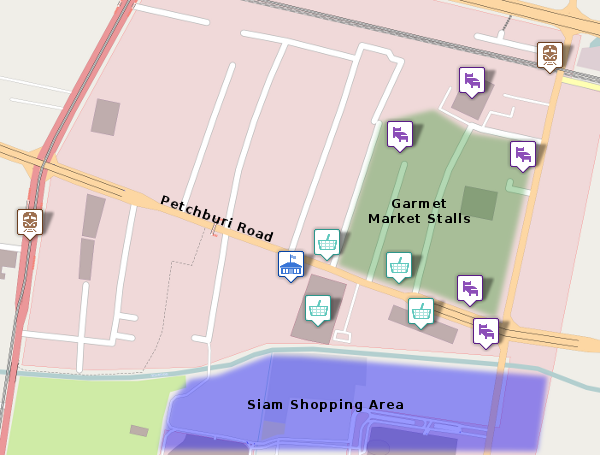 Mouse over the icons for more information, click for details.
Base map image © OpenStreetMap contributors, CC BY-SA
Although it isn't the most convenient area to stay, from a transportation standpoint, there are several hotels in the garment district, including the four star Amari Watergate Hotel. See the map above for locations and other highlights of the area.
City Complex

City complex is the oldest of the air conditioned malls in the market. There are five floors of mostly small stalls selling a wide range of clothing, from jeans to formal wear. A new neighbor is smaller, but otherwise much the same.

Platinum Mall

The newest addition to the enclosed air conditioned garment markets was opened in late 2005, but still follows the same model of small stalls packed in tightly along narrow aisles. There are several good food stalls here as well.
Up on Petchburi Road is the old center of Panthip Plaza. For many years, this was the place to go for computer hardware, peripherals and software (both real and pirated). It has two or three competitors these days, and not so much pirated ware any more, but many still swear it has the best prices in Bangkok.

Shibuya 19

One of the newest malls on the block, opened in early 2012, Shibuya 19 is very similar to the Platinum complex, only much smaller yet with wider aisles, making it feel a lot roomier.