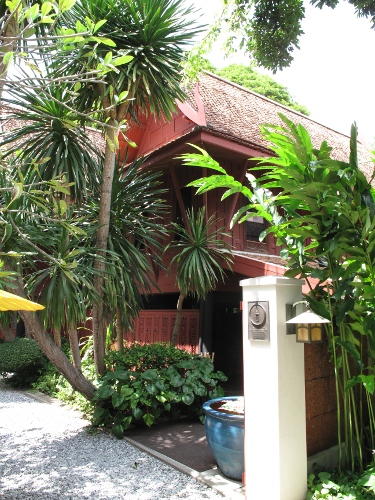 Entrance to the Jim Thompson House.

The Thai houses that Jim Thompson collected in the 1960's get mentioned prominently in most guide books, but the museum doesn't get many visitors. It is rather off the beaten track, but still worth a visit.
Jim Thompson was an American who first came to Thailand as part of the OSS (the military precursor of the CIA) towards the end of World War II. After the war and upon leaving the service, he decided to return to Thailand. He saw the international potential of the almost forgotten cottage industry of silk weaving, and is largely credited with reviving the lost art.
Thompson's appreciation of things Thai extended to all of the arts and architecture. Once he had made his "fortune" he began the construction of his house. The collection of six buildings represent some of the best of traditional Thai architecture. Many of the houses were at least two centuries old. While this would be an outrageously expensive exercise today, we have to remember that this was the 1950's, when old was definitely out of fashion and everybody wanted something modern. People were probably more than happy to have this silly American pay them to cart of what they may have thought of as "junk" at the time.
The houses are reconstructed and put together in a very traditional fashion, although most of the modern conveniences such as electricity and indoor plumbing have been incorporated. The house quickly became known around town, and was ultimately opened to the public even before Thompson's "mysterious" disappearance while visiting friends in the Malaysian Cameron Highlands.
Although open to the public, the house is not open to tour groups, which is one of the reasons more people don't visit. The house is also at the end of a longish alley (soi) and so not well know by taxi drivers either. Fortunately, the new Skytrain system may make it easier for more people to enjoy this little gem.
Getting to the Jim Thompson Thai House & Getting In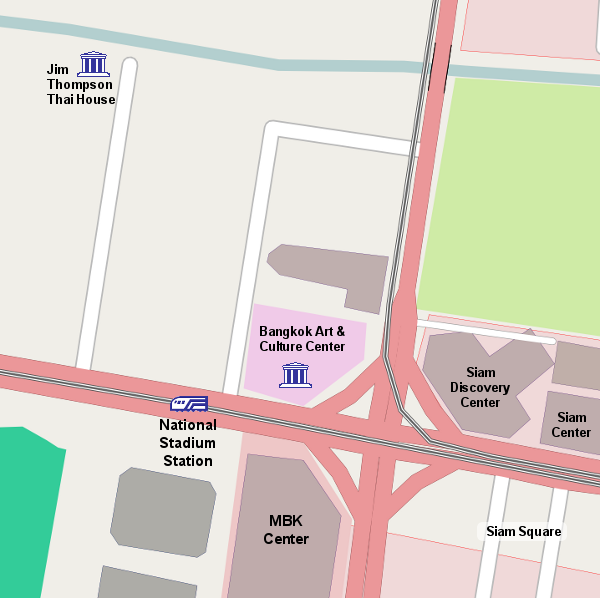 Map to the Jim Thompson house museum.
The Jim Thompson House is easy to get to using the Skytrain elevated train system. Alight at the "National Stadium" station and use Exit 1 (do not follow the crowd; they're heading to MBK Center). You will need to make a "U-turn" at the bottom of the stairs and walk back along the street away from the station. A very short walk will put you right at the mouth of the soi leading to the house, which is well signed.
Whilst you can visit the exhibition space and Jim Thompson store for free, tours of the house itself are guided only and cost 100 Baht (2.60 USD). There is also now a full service restaurant and bar on the grounds.