The name most synonymous with Thai silk is Jim Thompson. The American is credited with reviving the "dying" art of weaving Thai silk in the years following World War II. He sought out weavers in the northeast of Thailand - where most of the silk is still sourced - and made sure the craft was passed on. He advised on what patterns and colors would sell, and of course he purchased a lot of final product for his own shop in Bangkok.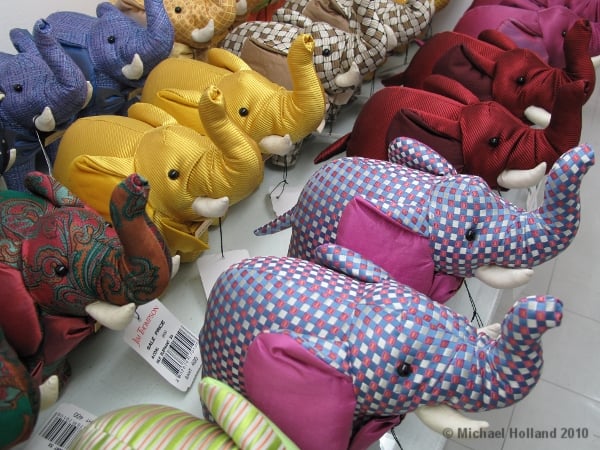 Colorful Thai silk elephants
Over the years following Jim Thompson's disappearance, the Jim Thompson Thai Silk Company has grown and expanded to become not only 'the' name in Thai silk, but a complete 'lifestyle' brand exemplifying modern Thai style. Not only are there clothes on sale, but upholstery fabrics, wall coverings, pillows, sheets, travel bags and sundry other items. Plus there's also a small chain of Jim Thompson Cafés around Bangkok as well as some other countries.
While Jim Thompson has a well-earned reputation for offering the finest Thai silk, such quality doesn't come cheap. You will easily pay three times more for silk items carrying the Jim Thompson logo than you will for similar items from other shops, although of course the quality may not be the same. Shop around a bit to help you decide if the quality is worth the premium price.
It's also worth noting that Jim Thompson is not a tailor shop. While the main branch does have some dress-making capabilities, this is not the place to go if you want a suit or other clothes tailor made. It's strictly off-the-rack at Jim Thompson.
Jim Thompson Suriwong Branch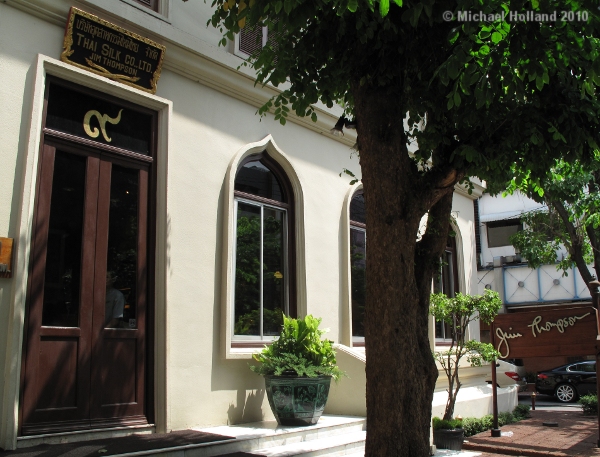 The main Jim Thompson store on Suriwong Road in Bangkok
There are many Jim Thompson retail outlets around town, in the major high-end shopping malls as well as some boutiques in hotels and, naturally, an outlet at the Jim Thompson Thai House, but the main store is on Suriwong Road, a short walk from the subway and Skytrain stations at Silom. It's almost right on the corner of Suriwong and Rama IV, next to the Roadhouse BBQ restaurant.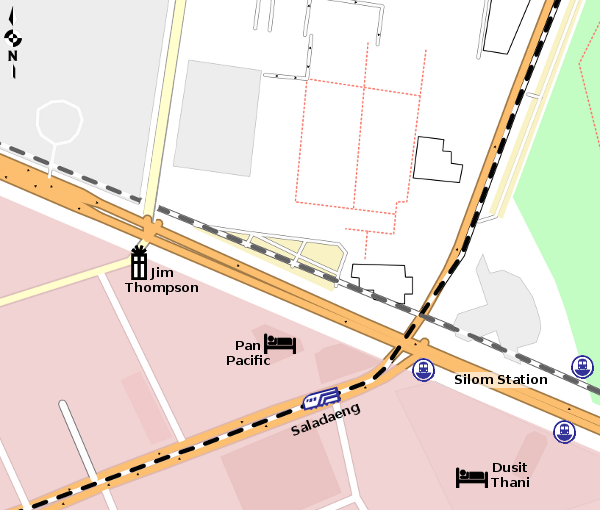 Jim Thompson Bangkok Factory Outlet
There are several "factory outlet" stores operated by Jim Thompson, where you might be able to find clearance items at special prices. These outlets also have a huge inventory of fabrics for wall coverings, upholstery and clothing.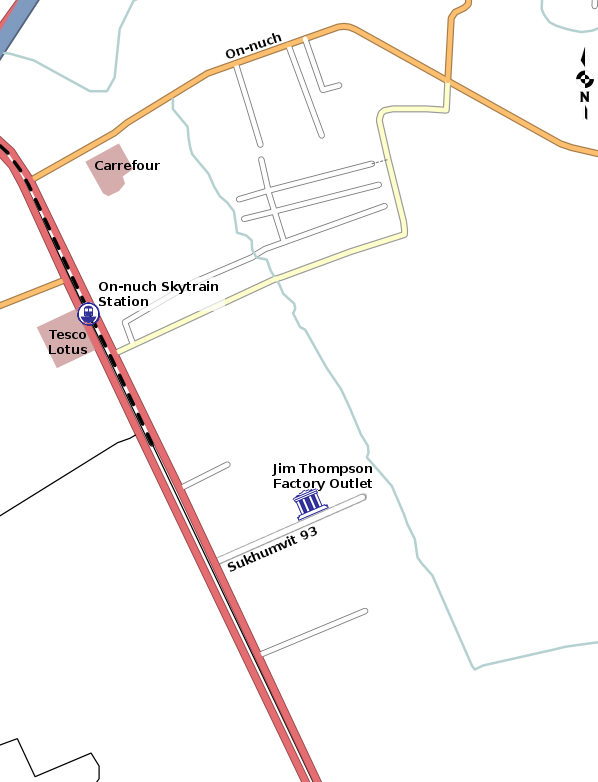 Map to the Jim Thompson factory outlet store in Bangkok
The Bangkok factory outlet is on the outskirts of Bangkok. It was a bit of a hike from the On-nuch Skytrain station, but with the new extension open, it's much closer to the new Bang Chak station. Take the Skytrain to the Bang Chak station of the Sukhumvit line, which is near Sukhumvit 99, then walk back up Sukhumvit until you come to Sukhumvit 93. The outlet is about 200 meters/yards up the street, on your left.
Consult the Jim Thompson Thai Silk Company web site for additional information.