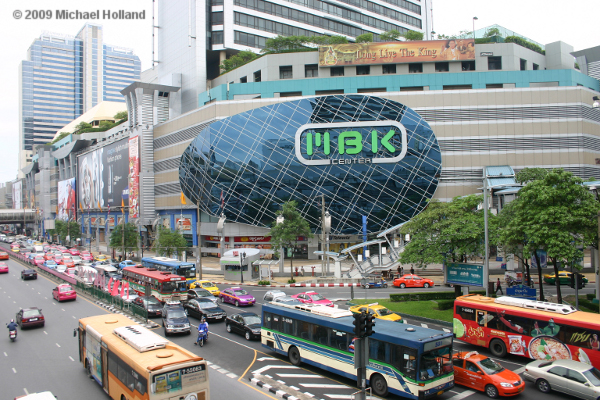 Mahboonkrong Center, as seen from the Skytrain walkway.
The "grand -daddy" of Bangkok's shopping centers, in places Mahboonkrong - more commonly known as MBK - feels more like a covered bazaar, with many small shops and sometimes very narrow aisles. You'll find one floor devoted almost entirely to mobile phones and accessories. Two others have clothes as well as bags while another floor is mostly furniture. To top it all off - literally - is a large multi-screen cineplex, surrounded by several restaurants and a bowling alley.
Atop the mall is the Pathumwan Princess Hotel, a rather nice four star hotel with a fantastic sports club that would make a good place to stay for die-hard power shoppers. With easy access to the BTS Skytrain National Stadium station, MBK is within easy reach of most visitors, and some consider it worth a visit just for the mad scene that the big mall often becomes on weekends.
Why you might want to go: As mentioned above, the main claim to fame for Mahboonkrong, among Thais, is the vast array of mobile phone shops, which sell new phones, used phones, batteries, spare parts, bling and more. They also offer a wide variety of services, which include unlocking, jailbreaking, cracking and downloading, as well as other minor repairs, which may or may not void your warranty. Do be careful when taking advantage of any of these services.