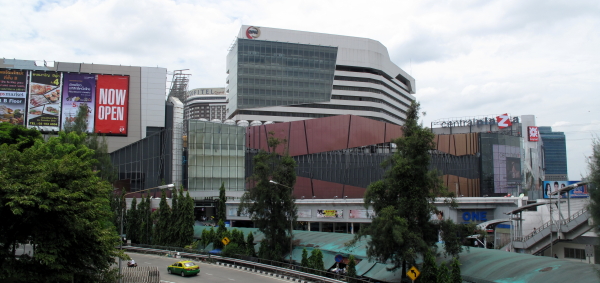 Central Plaza Ladprao, with its new look in late 2011
Central Plaza is one of the grand dames of Bangkok shopping malls. It was opened in the 1970s, and after lengthy negotiations one the renewal of the lease for the land, it underwent a major remodel in 2011. The facelift was accompanied by a shift in focus, with more up-scale shops replacing many of the cheap stalls that attracted hoards of teenagers to the mall. Most of the younger crowd had already migrated to the new and decidedly down-scale Union Mall across the street anyway, so the new focus made sense.
Major tenants at Central Plaza include the Central Department Store and a branch of on of the major cineplex chains. There aren't any shops that are unique to the mall, so there's really no reason to make a special trip here. Of course, if you're staying in the Sofitel Hotel attached to the mall, then it's a convenient place to shop and eat.
The mall is a short walk from the Pahonyothin subway station. You can check the Central Plaza web site for information on special events.