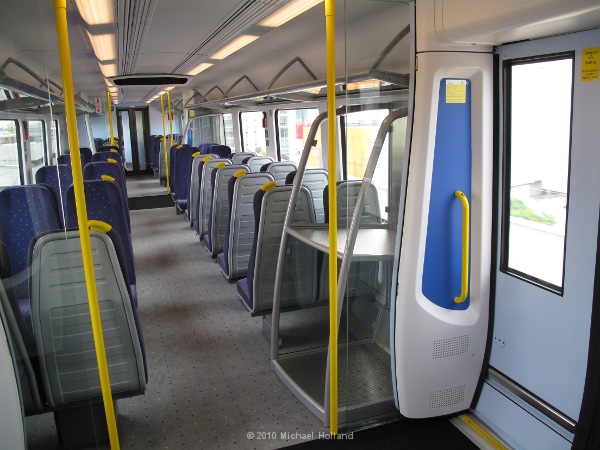 Interior of the Airport Link Express train.
The Airport Link Express provides a direct non-stop connection from the airport to the Makkasan City Terminal near the center of the city. The Airport Express trains have a 'plush' interior with padded seats, carpeting, overhead luggage racks and space for larger suitcases near every door. This is quite different from the City Line cars, which have hard plastic bench seats and no racks.
The station at the airport is on the basement level. From arrivals on Level 2 you go down two levels to reach the station. The level in between is where the public taxi queue is located. The airport is already relatively well signed. At the station, look carefully for the signs to the trains you want to take. Oddly, they color-coded the trains - red for the Airport Express, blue for the City Line - but all the signs in the airport station are red, including those for the City Line.
There's also a number of food shops on the basement level outside the station. These include a Subway, Baskin Robins, Dunkin Donuts, 7-11 and a few others. The station is also were the tunnel to the Airport Hotel is located.
The Makkasan City Terminal is a large new complex next to the State Railway maintenance yard. The station is near the Petchburi Subway station, but as yet there are no signs in the station or between it and the terminal to help you find your way, and getting there requires you to cross a somewhat busy road, which you might not want to do with a heavy suitcase. The City Terminal has been designed so that you can check in for your flight, including checking your bags, at the terminal. This service won't be available until around the end of 2010, and you probably won't be able to check bags at the City Terminal for 'high security' destinations like the US or the UK.
The cost for the express Airport Express service is 100 Baht until the end of 2010. After that it will be 150 Baht. If you're traveling alone and staying in the Sukhumvit area, the link will save you time and money. However, if you're not alone and staying on the river, for example, using the link and then a taxi will likely cost you more than a taxi direct from the airport, and probably won't save you much time. The City Line costs just 15 Baht per trip until the end of 2010. After that, it will be 15 to 40 Baht per trip, depending on distance.

« Airport Link main page.