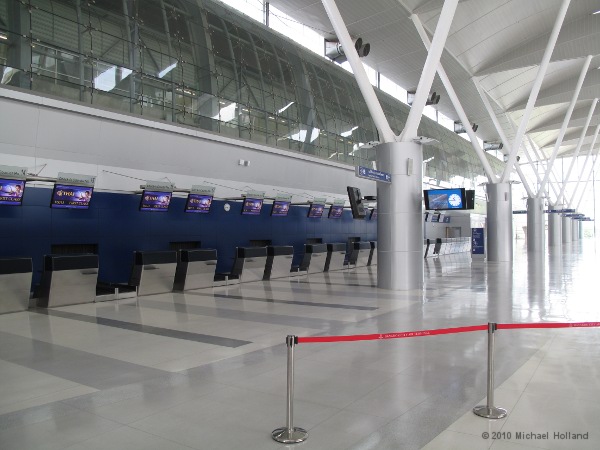 The check-in counters at the Airport Link Makassan City Terminal.
The Makkasan City Terminal anchors one end of the Airport Link express service. The huge building will eventually allow travelers to check in for their flights, with their luggage being transferred to the airport and loaded on the plane for them. This service should be available in early 2011. There's room for retail space and other facilities, but these seem to be slow coming.
The building covers four levels. The ground level is for parking, while the second seems to be set aside for retail. The third level is where the ticketing and check-in functions are located. This is currently where you can get a taxi if arriving at the terminal. Just walk straight out of the building to the curbside. If no taxis are waiting, there is a guard who will call one for you. Until the end of 2010, you must purchase tickets from the counter. The automatic ticket machines will be put into use in 2011 after the initial promotion pricing ends.
After purchasing your ticket, you proceed up to the platforms on the fourth level. City Line and Airport Express trains run on different platforms, so there is no risk of confusing which train to get on.
The terminal is a short distance from the Petchburi Subway station, but although it's not a long walk, you wouldn't want to make it with luggage.