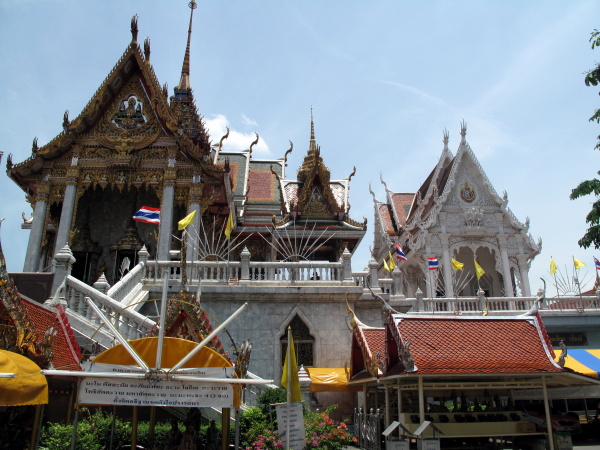 The main chapels of Wat Hua Lampong
Not far from Bangkok's main business and entertainment district along Silom Road is the temple of Wat Hua Lampong. The temple serves a large community of those that live and work around upper Silom and Suriwong Roads, so although its not especially significant, the temple is a lively place to observe a 'real' working temple.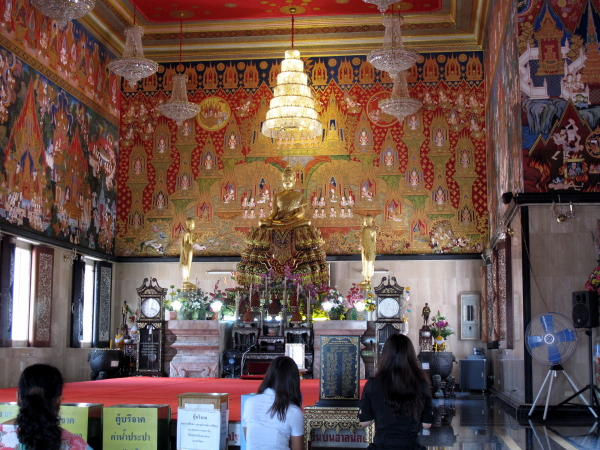 The altar of the main chapel of Wat Hua Lampong
Wat Hua Lampong was extensively remodeled in honor of His Majesty the King's 50 anniversary on the throne. The royal seal of the Kanchanapisek Year (as it was called) is used extensively throughout the temple's elaborate decorations. The seal features two elephants flanking a multi-tiered umbrella.
The temple is actually quite large, and if you wander around you will find some interesting older buildings.
Getting There
Wat Hua Lampong faces Rama IV Road right next to the Sam Yan subway station. If taking the Skytrain, alight at the Saladaeng Station, walk through Taniya Alley, cross Suriwong Road, Rama IV will be on your right. Turn left on Rama IV and walk down about one block.