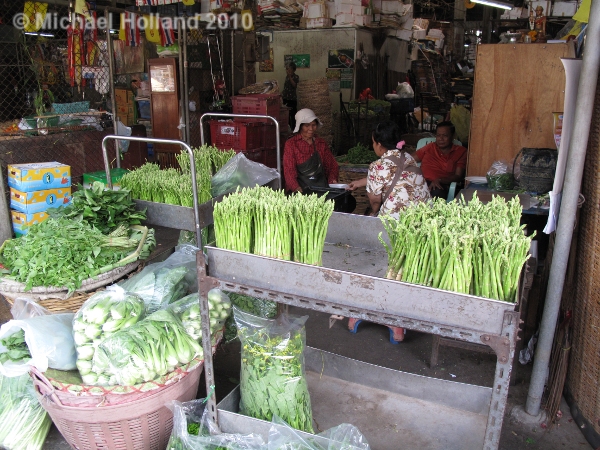 A stall selling lots of fresh asparagus
Pak Klong Talat is one the oldest fresh markets in Bangkok, and still one of the main wholesale markets for fresh fruit and vegetables. The name translates as "canal mouth market", which is a straightforward description of the market's location on the Chaophraya River at the point where the "Lord" canal empties into it, just outside of the royal city area.
The market dates from the earliest days of Bangkok, when it first became the new Thai capital in the late 18th century. However, the character of the market has changed over time. It has been a fish market at one time, then converted to a produce market, with most of the goods arriving by river boat. The remains of the docks can still be seen from the river. While there is still a good business in fresh produce, most of the wholesale trade has moved to Talat Tai north of Bangkok. These days, the market is best known for fresh flowers.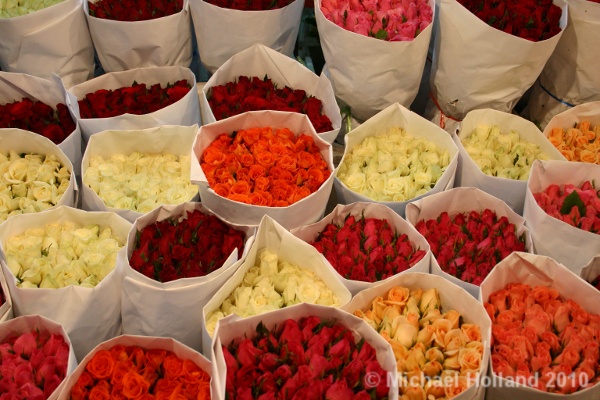 Roses on sale in the fresh market
The market is open 24 hours every day, but is at its most active in the wee hours of the morning. By noon the place can be a little deserted, although the stalls along the street on Chakphet Road are always busy. You'll find lots of Thai sweets on sale in addition to the flowers.
The easiest way to reach the market is by express boat to the Memorial Bridge (Saphan Puut) pier. Turn left on leaving the pier and walk up along the river. There will be a queue of buses along the street, as the area under the bridges is sort of a transportation hub. The market is directly ahead of you along the river. You'll be entering the back side of the market, so your first impression might be a rather smelly one.