Benjarong is perhaps one of the most colorful and ornate of Thai handicrafts. It starts with fired white porcelain, which is then painted with often elaborate geometric patterns, glazed and fired again. Bright colors are traditionally used. The word Benjarong literally means 'five colors' but these days it can be painted with anything from three to eight colors, and almost always trimmed in gold.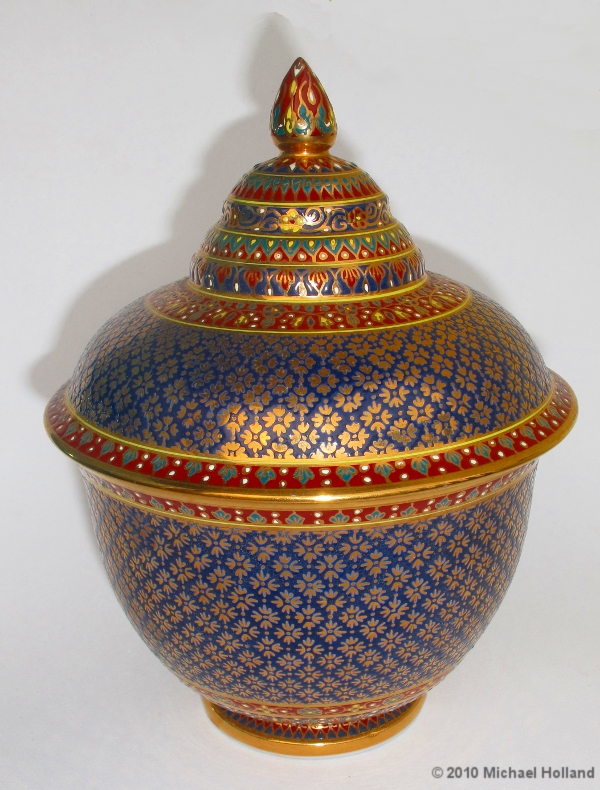 A traditionally shaped and painted benjarong bowl.
Benjarong items can be anything that can be made out of ceramics, like cups, plates and other tablewares. The most common things are coffee and tea sets as well as covered bowls like the one pictured, which to be honest, was traditionally intended as an urn for ashes.
Where to Buy Benjarong
You will find Benjarong on sale at just about any shop that sells Thai handicrafts, but you'll find more selection if you visit a store that specializes in it. The government-run handicrafts store Narayanaphand generally has a good selection of the ceramics, including nice sets which come with a handy travel case. There are large well-stocked stores in River City as well as a few stalls at Chatuchak weekend market. Before you go shopping, be warned that the intricate patterns on Benjarong are hand-painted, which even in Thailand makes it rather expensive. The stalls at Chatuchak are where you'll most likely be able to negotiate the best price.
Most Thai Benjarong is made in factories in the coastal provinces around Bangkok. They generally do have showrooms, but would probably be too far away to get to unless you were considering a large purchase. One factory with an on-line presence is Buran Benjarong.