Arts of the Kingdom Exhibit
NOTE: The Ananta Samakron Throne Hall has been closed for repairs as of October 1, 2017. There is no word on when, or if, it will re-open to the public. The Arts of the Kingdom exhibit has been moved to the Bang Sai Royal Arts & Crafts Center in Ayuthaya.
This huge ornate Italianate building dominates the royal plaza at the end of Ratchadamnoen Avenue, as it was meant to. The building was built in 1912, and for a time after the 1932 coup which ended the absolute monarchy, it housed the Thai parliament. The building has a spectacular interior, and used to only open to the public once a year, on Children's Day (the second Saturday in January).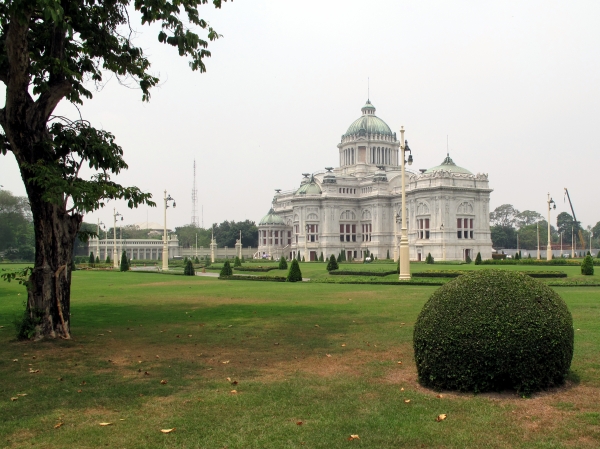 The Ananta Samakorn Throne Hall
Now, the magnificent structure houses the permanent Arts of the Kingdom exhibit, which displays all the traditional crafts of the country, as cultivated by Her Majesty the Queen. The exhibit is open 10:00 am to 6:00 pm Tuesdays to Saturdays. Closed on Mondays, New Years and Songkran. Admission is 150 Baht (3.90 USD), although if you visit the Grand Palace, you also receive free admission to the Arts of the Kingdom within seven days. No photography is allowed inside.
The large paved plaza in front of the building is where the annual Trooping of the Color is held every December. In late March or early April, the plaza is also the scene of the annual Red Cross fair, which spills into the adjacent Amporn Gardens exhibition center.
Note that the building is often mis-labeled on tourist maps as the Abhisek Dusit Throne Hall. That comparatively tiny building is located behind the Ananta Samakorn Throne Hall in the Dusit Palace complex, which also includes the Vimanmek Mansion. See the full map of what's nearby.