Perhaps the least visited part of Thonburi is the area around the Klong San Pier. The district is easily reached via a cross-river ferry from the Sriphraya Pier next to the Royal Orchid Sheraton hotel and River City shopping center.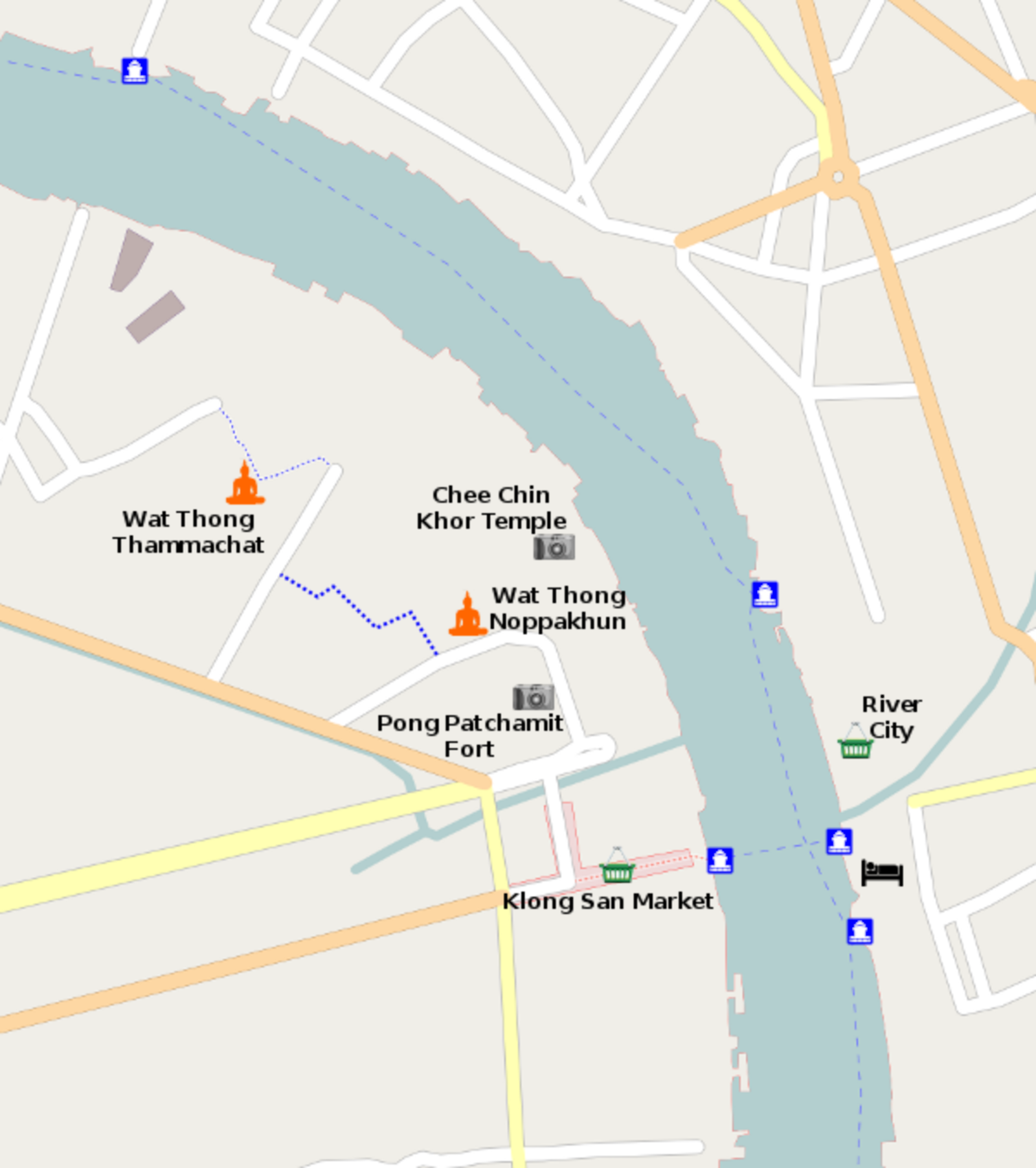 Click on a sight to display the detailed information page for the destination.
The street leading away from the Klong San Pier is filled with market stalls, virtually all of which cater to fashionable young ladies on a budget. A bit further on there's also a large group of food stalls off to one side of the street. Another small lane leads away from the market towards Ladya Road. If you take this lane, upon reaching Ladya Road you'll see a tall ship's mast on the other side of the street. The mast is unmarked, and the only apparent reason for its being there is that the building behind is housing for Harbor Department employees.
To get to the main sights of the area, you'll want to head up Ladya to the intersection with Somdet Chaophraya Road. The large Taksin Hospital is on the corner. From here, you want to head up Somdet Chaophraya Road until you pass the hospital. Immediatly past the hospital you want to turn right down Somdet Chaophraya Soi 11. About 100 yards down the road a left turn will bring you to Wat Thong Noppakhun. The old temple has several unusual features and shrines surrounding it, including a Chinese Junk modeled from concrete.
Passing through the large paved area in front of Wat Thong Noppakhun and down the small lane on the other side will bring you to the temple compound constructed by the Chee Chin Khor Moral Uplifting Society. The relatively new temple is easily seen from the river due to its towering Chinese styled pagoda. The view from the top of the pagoda affords a wide panorama of modern Bangkok.
From the pagoda, you can easily see a large Chinese styled mansion next to the temple compound. This is the Wang Lee Mansion, and although it's right next to the temple you must return to Somdet Chaophraya Road and walk down to Chiang Mai Road to reach the Wang Lee Mansion. The house is one of the last remaining nineteenth century Chinese merchant houses left in Bangkok. It is not open to the public and photography is discouraged.
Up Chiang Mai road not far from the entrance to the Wang Lee Mansion compound is the entrance to Wat Thong Thammachat. This small temple is somewhat unusual for Bangkok in that it stands in a small patch of trees which have not been uprooted to make room to park cars.