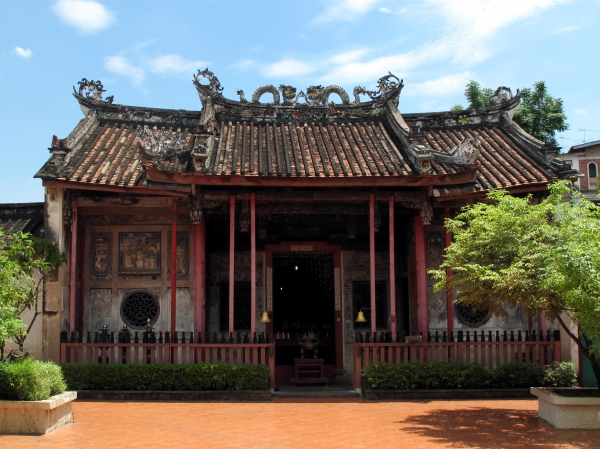 A Chinese shrine to Kuan Im, the goddess of mercy.
Facing the river not far from Wat Kalayanamit is an old shrine to Kuan Im, the goddess of mercy -- not to mention good fortune, peace and fertility. Like most Chinese shrines in Bangkok, there are no signs giving the background of the temple and no information to be found in other guidebooks either.
Outwardly, the temple does not look in very good shape, but if you get up close, you can still see some fine details inside and out. No photography is allowed inside -- that's the only recognizable sign in Thai or English -- so we can't show you pictures of some of the interesting interior. The front facade features some rather finely carved grillwork. Inside are some large murals of mythical Chinese figures that are somewhat less comic book-like than most. A large number of bells and chimes hang from the eaves around the courtyard.
Getting There
The Kuan Im shrine is just a short walk down the river walk from Wat Kalayanamit.