Street stall selling bonzai trees
There are several plant and flower markets around Bangkok. One of the largest and most accessible is on Kampaengphet Road, just a short walk from Chatuchak market, although most tourists never even know it's there. The street itself is lined with small stalls selling bonsai trees, small flowering plants, and even artificial plants. Then there are the two market areas. One is in a large paved lot that also hosts the Railroad Market on weekends. Unfortunately, the plant market is closed before the Railroad Market even gets started, so you can't visit both at the same time. In fact, the plant market is more lively on weekdays than weekends. See the Railroad Market link for a map.
An unusual orchid on sale in the markets
The other big plant market in the area is the brand new Siam Orchid Market, which is right next to the Aw Taw Gaw farmers market. The large modern building looks like a giant wooden ship run aground. The building houses several small shops and there are more stalls in the large plaza around the building. It's not just orchids on sale either. On the second floor of the building is a branch of the Doi Chaang coffee shop chain. It's a nice place for a cup of coffee and offers a rather commanding view of the area.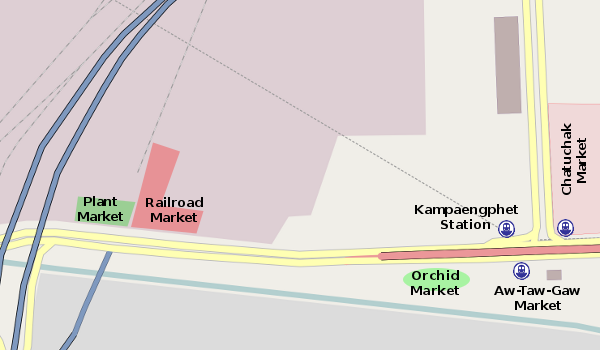 Map to the Plant and Orchid Markets
Getting there: The markets are either side of Kampaenphet road. To get there take the subway to the Kampaengphet station and use the exits to either the Aw Taw Gaw market, or to Kampaengphet Road. If you exit to the market, you can walk through it and across the parking lot to the Siam Orchid Market. Then, further along Kampaengphet Road, you can use the pedestrian bridge to cross over to the other side, where you'll find the plant market a short way further on. You can stay on the same side of the road to return to the subway station.