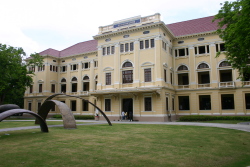 The Siam Discovery Museum
"What does it mean to be Thai?" That's the difficult, and potentially controversial, question tackled by Bangkok's newest museum, the rather redundantly named Museum of Siam Discovery Museum. The museum is housed in a beautiful cream-and-white confection of a building that used to house the Commerce Ministry. Although the exterior has been restored to the way it must have appeared the day it was completed 100 or so years ago, the interior is thoroughly modern. Aimed primarily at Thai children, the displays use bright colors and every technological gadget imaginable to get their interest. If my visit was any indication, it seems to work. Most of the gimmicks are just as attractive to a lot of adults as well. I would have like to take a turn with the video game employing a 19th century canon myself, but there was a queue of 10-year old boys waiting and I didn't feel like joining them.
As you've probably already guessed, this is a museum that encourages interaction. I didn't see a single "do not touch" sign. At one point, I made a joke of swapping my Panama hat for a pith helmet on one of the displays, and the attendant told me to go ahead and try the hat on. Another one asked if I wanted to record a 20 second news piece on their 1960's era television studio set, while in the next room I was encouraged to take a seat in the mock-up of a diner.
Despite the casual atmosphere, the museum probably succeeds in at least getting people to think about the subject. It suggests that being Thai means many things, and has probably changed meaning over the centuries, as this "golden land" has absorbed many peoples from other lands, including the Thai ethnic group.
Getting There and Getting In
The museum is open 10:00 to 18:00 Tuesday to Sunday. Friday evenings there are usually events in the large open square behind the building. The museum is located near Wat Po. To reach it from Wat Po, you exit the temple through the south gate, turn left, then right at the next street. The museum is in the next block past the Wat Po School. Alternatively, you can take the express boat to the Memorial Bridge pier, walk though the Pak Klong Talat market an turn left once you reach the main road. Walk to the end of the market and over the canal. You'll see the Phra Ratchinee police station at the intersection. Take the road to the right of the station. The museum is immediately behind the police station. Admission is free.