One of Bangkok's newest museums, opened in 2010, the Rattanakosin Exhibition Hall recounts the rich history of Bangkok's royal city, referred to locally as Rattanakosin Island. This new generation museum is targeted mostly at Thais, and uses an impressive array of technological tricks to lure in the locals, who have something of an extreme disdain for museums. Although it aims to attract Thais, the museum will still be of interest to western visitors.
The Rattanakosin Exhibition Hall is located near the Golden Mount and Loha Prasat, in one of the old buildings along Ratchadamnoen Road. "Rattanakosin" is the name of the original royal city area of Bangkok, where the Grand Palace, Wat Po and National Museum are located. The museum recounts the history of this area of Bangkok, and thus the history of the current ruling dynasty.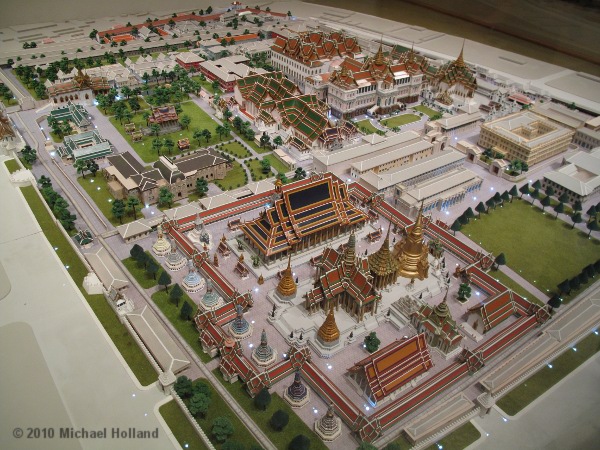 A detailed model of the Grand Palace Complex on display in the Rattanakosin Exhibition Hall
Tours of the exhibition hall are guided only, since there are a number of multi-media 'production numbers' along the way. The first of these is probably the most impressive, although it's trick is so subtle I suspect most visitors don't even know what it's doing. I won't spoil the surprise. Just keep an eye on the ceiling.
The following galleries house displays about the Grand Palace and the performing arts. The performing arts gallery includes a 360-degree theater with a video presentation as well as some fine examples of Khon masks.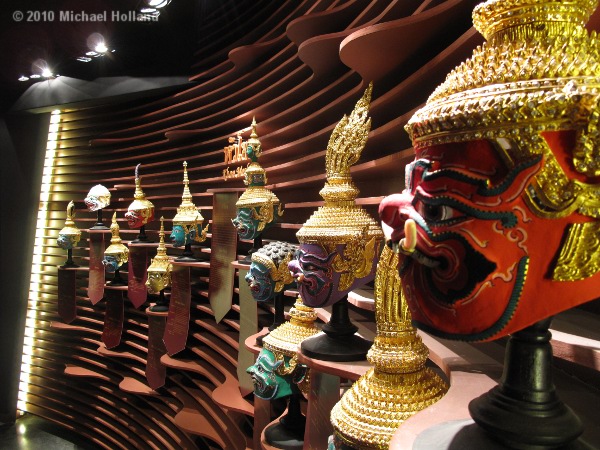 Exquisite examples of Khon Masks on display in the Rattanakosin Exhibition Hall
There's a top floor observation room with coffee shop. The circular lounge has great views of the Golden Mount, Loha Prasat, King Prajadhipok Museum and Queen's Gallery. This area is positioned as a sort of 'break' in the guided tour, which continues with coverage of royal ceremonies and concludes with a look at the architecture of the city.
The area where the Rattanakosin Exhibition Hall is located is one of those interesting areas of Bangkok that doesn't get that many tourists, even though it's relatively accessible. The museum is open every day except Monday. Admission cost is 100 Baht (2.60 USD). On the ground floor there are two coffee shops, including a small branch of Coffee Beans by Dao, as well as some souvenir shops and a library. All of the ground floor shops can be accessed without paying admission. The Rattanakosin Exhibition Hall web site is in Thai only.