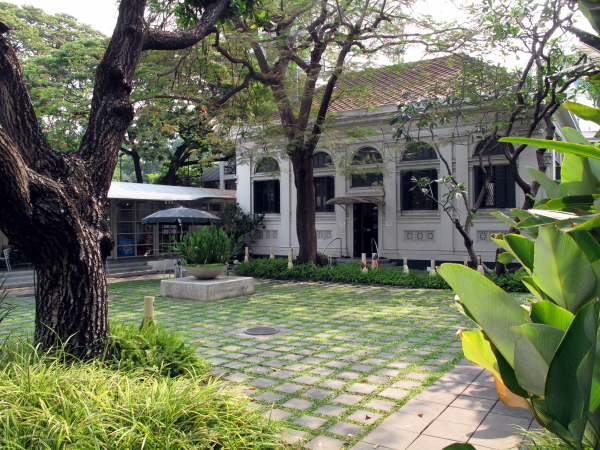 The old building, garden and café of the Neilson Hays Library
The Neilson Hays Library is like a quiet, forgotten corner of Bangkok. The library was built in 1921, although its origins go back to the Bangkok Ladies' Library Association established in 1869. Jennie Neilson Hays was a very active member of this association around the turn of the century. When she died in 1920 her husband Dr Thomas Heyward Hays, Chief of the Royal Thai Navy Hospital, commissioned a library in her honor - the first dedicated home for the Library Association she served as president of three times.
The library remains the only private English language library in Bangkok and is the oldest non-profit organization in Thailand. Inside the library is a single high-ceilinged room containing the stacks, work tables and a special children's area. The old main entry is now the "Rotunda Gallery" displaying temporary exhibits by artists working locally.
The library was recently joined by a new building housing the Garden Cafe and Gallery. The simple glass-walled building looks out onto the old building and garden, and provides additional display space for local artists. The restaurant is run by the British Club next door, and offers a large menu of local and Western dishes.
The library is open Tuesday to Sunday from 9:30 am to 5:00 pm. The Garden Cafe is open every day from 9:00 am to 6:00 pm. You can visit the library and gallery for free, but to use the facilities costs 50 Baht for a one time membership. See the Neilson Hays Library web site for additional information on current exhibitions.