The riverside is a great location. Most major tourist sites in Bangkok are just a few steps away from the river, and after spending a hot day tramping around temples, the river really cools you off in the evening.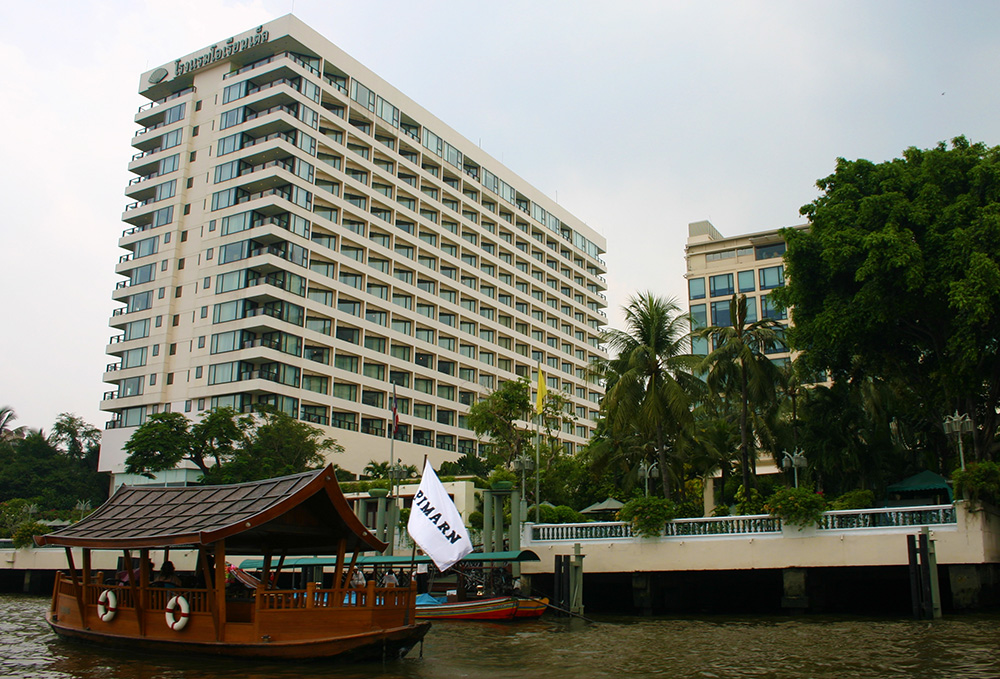 The Mandarin Oriental Hotel
The river is where you will find some of Bangkok's oldest, and posh-est hotels. The grand dame of these is the Mandarin Oriental (also known as just "The Oriental" to us old-timers). The original building dates from the late 1800s and still retains some of that charm of a bygone era. With its combination of luxury and history, The Oriental makes a great place to start your visit to Thailand.
Sited almost directly across the river from The Oriental is the relative newcomer Peninsula. Offering a similar level of luxury, the hotel's fans believe that the high-rise on the west bank of the river has the better view. Down the river from both of these is more resort-like Anantara Bangkok Riverside. Although it rates five stars, the atmosphere here is much more laid back than either the Peninsula or The Oriental.
Rounding out the top-end are two other relative new-comers, both located up-river from the older hotels. Praya Palazzo is a small boutique style hotel built on the grounds of a century-old mansion. It has the curious distinction of being reachable only by boat. Not far from Praya Palazzo is The Siam. Although newly built, The Siam features a number of elements harking back to the old colonial era, and it's walking distance to the many old palaces and museums of the Dusit area.
Other riverside hotels worth mentioning:
Click the links to see details and rates offered by Agoda, or checkout this full list of Bangkok riverside hotels. Or, compare rates for Bangkok hotels from dozens of sites at Hotels Combined.