The Victory Monument area is one of Bangkok's major transportation hubs. Many of the city's bus lines converge here, and it's also an area where you can get vans to many nearby destinations. The sidewalks and buildings around the monument are home to many stalls and small shops selling cheap merchandise of all kinds. Most of the people using the area's various transportation services are young students, so the goods on offer are designed to appeal to them.
Victory Monument Area Map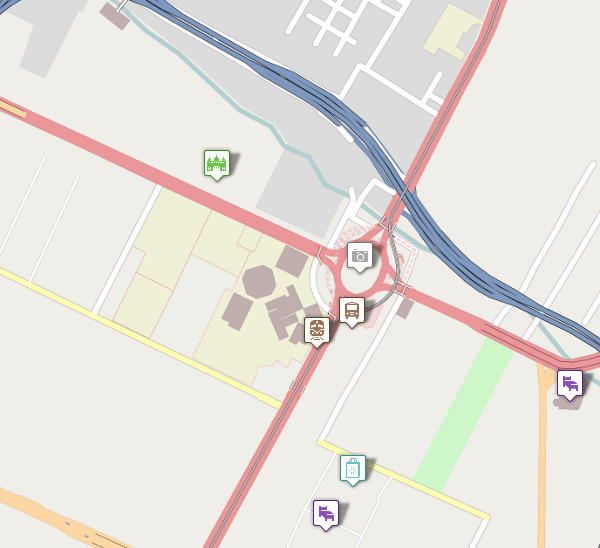 Click on an icon for more information, or scroll down for a summary.
Base map image © OpenStreetMap contributors, CC BY-SA
There isn't much in the area to attract regular tourists. Aside from the monument itself, which isn't much to look at, there's just the Phayathai Palace a short walk from the Skytrain station.
Also of possible interest to the traveler is the Downtown Duty Free shop of King Power, which is the exclusive duty free operator for Bangkok, Phuket and Chiang Mai airports. You might find more selection at the downtown shop than at the airport, and it's all in one place. Note that any duty free purchases you make at the downtown shop will need to be picked up at the airport when you leave, so be sure to bring your departing flight information with you. Part of the duty free complex is the area's only nice hotel, the five-star Pullman King Power.
As mentioned above, you can get vans from the Victory Monument area to many nearby destinations, including such popular tourist spots as Pattaya and Hua Hin. There are generally several operators to choose from for each destination. Service can be as frequent as every 15 minutes. Note that the services from this area use small vans, not buses. It would be remiss of me if I didn't note that these small van services had a somewhat spotty safety record. Use them at your own risk.
The only other hotel of note in the area is the Century Park Hotel. It's a rather long way from the Skytrain Station but it can be good value for a central hotel.