Museum of Floral Culture
Just opened in August in 2012, the Museum of Floral Culture is one of the newest museums in Bangkok. Flowers play an integral part of Thai culture, and the first-of-its-kind museum seeks to document that role, as well as the history of floral arrangements and the cultures which influenced it, such as China, India and Bali.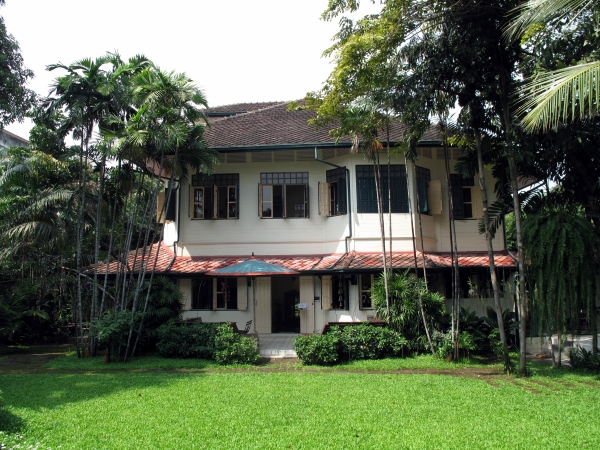 The 100 year-old house of the Museum of Floral Culture
The museum is set up in a house that's more than 100 years old, not far from the Vimanmek Mansion. In fact, the house was originally built by one of the officers of the palace guards, who was granted the land by the king. The founder and director of the museum is the internationally known floral artist Sakul Intakul, who is also the florist to the Thai royal court.
Visits to the museum are by guided tour only and start inside the house. The main rooms displays photographs of some of the key members of the Thai court who helped to cultivate the fine art of flower arranging around the turn of the twentieth century. The next room has photographs and some written works from other cultures whose traditions influenced Thai floral culture, such as India, Cambodia, Bali and Japan. It is this room that contains the museum's oldest artifacts: an ancient scroll from Japan that is like an instruction manual for the Japanese art of ikebana.
Other rooms display some traditional art and flower arrangements from Northeast Thailand; explain the process of turning flower petals into art; and examples of floral offerings, such as for weddings or to welcome guests. There's also a room upstairs with sketches and photographs documenting some of the director's projects, both for the royal family and for special events around the world.
The gardens around the house are also part of the tour. The grounds are planted with trees and shrubs reflecting Thai ideals of geomancy, which is very close to the Chinese feng shui. Don't expect a riot of color, as many of the plants were chosen for their traditional meaning rather than their flowers. The front of the house is surrounded by hanging orchids, which are changed periodically. The gardens are very beautiful, with different vistas in every direction.
The museum is open Tuesday to Sunday from 10:00 am to 6:00 pm. Guided tours are given in Thai or English and last around one hour. Admission, including the tour, is 150 Baht (3.90 USD). The museum is on a small side street about a 15 minute walk from the Payap pier. See the Floral Museum web site for a map and more information.