There was a time when the beautiful large shrine to Kuan Im of the Thien Fah Foundation was hidden behind a row of ugly shop-houses and could only be accessed through a narrow drive carved out of one of the shops. The buildings were removed a few years ago, so everyone can have a clear view of the shrine, which gets a lot of visitors on Chinese New Year as well as other special occasions.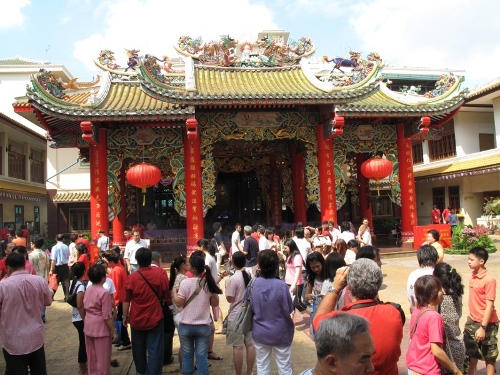 The shrine within the Thien Fah Foundation compound
The Tien Fa foundation was formed in 1902, making it the oldest charitable society in Bangkok. The foundation provides free medical care to the indigent. The buildings surrounding the shrine actually house the hospital facilities.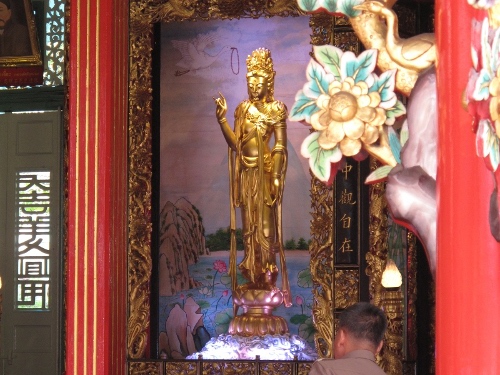 The statue of Kuan Im - the Goddess of Mercy
Kuan Im (or Guan Yin) is commonly referred to in English as the "Goddess of Mercy". The statue of Kuan Im on the altar at the Thien Fah foundation was carved in China from teak wood and is believed to be 800 to 900 years old. It was taken out of China and installed in the foundation in 1958.
Getting to Thien Fah Foundation
The Thien Fah Foundation is very close to Wat Traimit ("The Temple of the Golden Buddha"). The easiest way to get there is by subway to the Hua Lumpong station, then walking down Traimit Lane to the Odeon Circle. The foundation is on Yaowarat Road just a short distance from the Chinatown gate in the circle.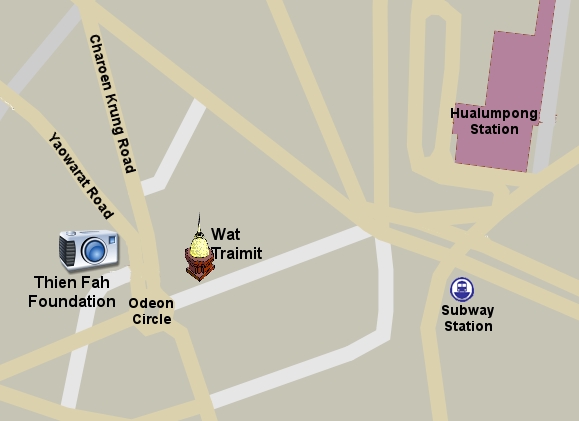 Map to the Thien Fah Foundation